Halloween Special Event 2022
【ONLINE】Spooky Ramen Cooking Class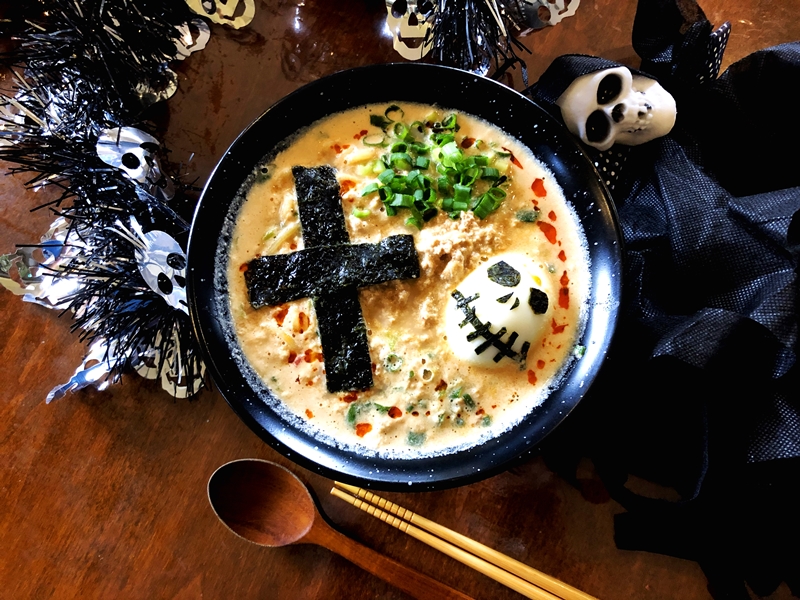 Come dressed up in Halloween costumes and let's make spooky ramen together!
This online event via Zoom is a special Halloween 2022 event. We'll start by making the dough, then flatten it out by hand. . . . NOT! My unique approach involves dancing on the dough while we enjoy some spooky Halloween music. Join us for a fun dance and make delicious sesame-flavored "Tantanmen" ramen from scratch. All you need is a bit of flour, a few other simple ingredients, and scary clothing. Vegetarian and vegan options are available.
Welcome to my world. . . . . .
Event flow.
1. Let's get acquainted and show off our Halloween costumes!
2. Make a half-boiled egg and add Halloween decorations to it.
3. Prepare the ingredients for the soup.
4. Make the noodles from scratch (dancing time!).
5. Make the soup, boil the noodles, decorate them with toppings and voila! Your Halloween noodles are ready to eat.
The schedule of events is below. Seating is limited so please book early. A PayPal invoice (You can pay by VISA/MASTER/JCB/AMEX/DISCOVER/UnionPay credit card) will be sent via email within 24 hours of booking completion. Once payment is received, we will send you a formal invitation to the party (including a zoom link and a list of ingredients).
We hope you will join us for this fun and tasty event.
Please note:
Each ticket pays for one person to cook.
Each paying customer can cook one or two servings.
Please be careful about time zone. The starting time of each event should be shown your time zone, but just in case it shows the wrong starting time, all the events start at 8AM JST (Japan Standard Time). Please calculate the time in your time zone.
If you would like to have the party privately starting at a different time, please send us an inquiry.
Cancellation policy:
No cancellation fee if cancelled more than 24 hours before the event.
50% cancellation fee if cancelled within 24 hours of the event.
100% cancellation fee if cancelled after the event has started or if you are not present at the event.
As this is an online event, please be aware that we cannot be held responsible in the unlikely event of an accident occurring in your kitchen during the event.