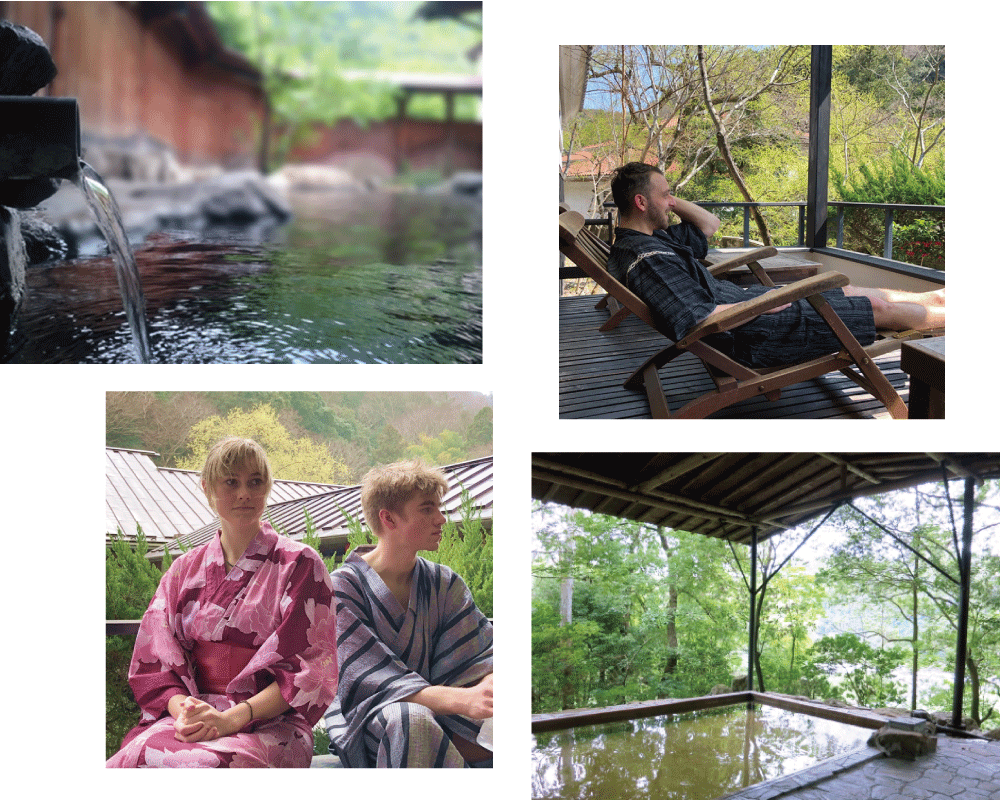 Hot Spring Bath with Local Guide  (10,000yen/person)
We offer "onsen" (hot spring bath) experiences. Japanese people love hot spring baths and are proud of the culture, but I have noticed that many foreign visitors are too shy to experience a hot spring bath. I think that is a shame! My husband and I would like to guide you to a very beautiful one.
Located in densely forested mountains, Hakone is one of Japan's most famous and beautiful hot spring resorts. We will meet up at Hakone-Yumoto station, and get on a bus for a nice hot spring bath (naked type) together. It takes about 10 minutes ride from the station. When we get to the place, my husband will take gentlemen to the men's bath, and I will take ladies to the women's bath . We will explain to you about all the points of etiquette you have to observe and get into the bath together. Don't be shy! I will show you a technique to preserve your modesty with a small towel. There are some nice "rotenburo" (outdoor baths) there. There is nothing more relaxing than soaking in a warm mineral bath in the heart of the forest! After we get out of the bath, we will put on a comfortable cotton robe called yukata and then the ladies and gentlemen will join up again. We will go to the relaxation room and take it easy. After all that, we go back to Hakone-Yumoto station by bus. The entire process takes about 3 hours. If your party is only female, it might be more flexible. Please ask me through the inquiry form.
The meeting point is Hakone-Yumoto station, Kanagawa prefecture.