Access
The meeting place for Japan foods'n booze is at Ninomiya station, north exit.
From Tokyo, there are two ways of getting to Ninomiya.
If you have a pass for the shinkansen (bullet train), you can catch a westbound train (heading for Osaka) and get off at Odawara (about 15 minutes). Then change to the JR Tokaido line heading back to Tokyo, getting off at Ninomiya, which is the third station (about 10 minutes).
Be careful! Not all the bullet trains stop at Odawara. All the "Kodama" trains and a few of the "Hikari" trains do stop at Odawara. But most of the "Hikari" and all the "Nozomi" trains just go straight past.
 If you do not have a Shinkansen pass, it will cost 3,390 yen to go by the route above. You can use an ordinary train from Tokyo station and get to Ninomiya for 1,320 yen. It only takes 15 or 20 minutes longer — about an hour and 15 minutes against 55 minutes by Shinkansen. Depending on how long you have to wait for a Shinkansen at Tokyo station, this way may even be quicker.
Also, this route involves no change of trains. You simply get on the JR Tokaido line train heading west, and get off 70-75 minutes later at Ninomiya. Easy!
But again there are couple of things you have to look out for. If the train is bound for Hiratsuka, it will terminate before reaching Ninomiya.
Then you'll have to get the next westbound train for two more stations from Hiratsuka.
If the train is bound for Odawara, Atami or Numazu, it will reach Ninomiya.
BUT,

express trains do not stop at Ninomiya

. Again you will have to get off at Hiratsuka and get the next non-express train.
It's perfectly simple really!
If you are coming from Kawasaki or Yokohama – no problem. These stations are on the Tokaido line, so it's the same as route two from Tokyo.
If you are coming from somewhere else, please tell me where in your application message and I will tell you how to get the right train.
Meeting place
When you reach Ninomiya station, please use the north exit. You go down some stairs or an elevator, and you will see a convenience store just across the road, called "Mini Stop." I will pick you up from the carpark in front of the shop. I will give you a phone number to ring if you are going to be a little early or late.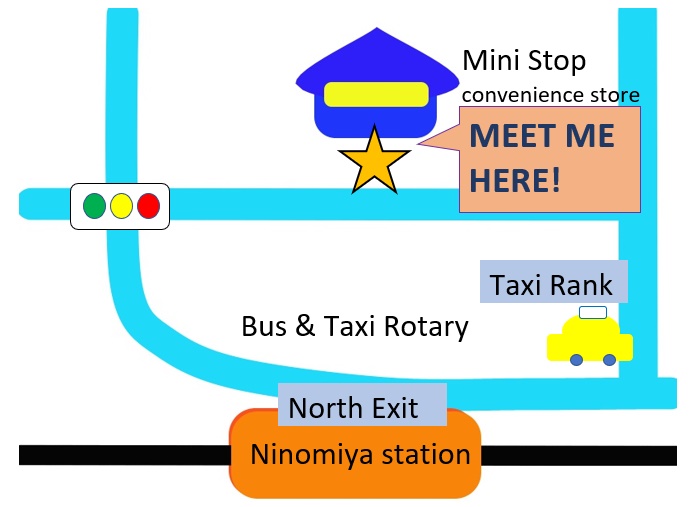 I know the location is a little bit out-of-the-way, but on the other hand it's a great place to stop off on your way to visit Mount Fuji or the hot springs of Izu and Hakone.
I look forward to seeing you!